I hope you're having a great time with your kiddos this summer! I know my kids have loved going to the park and splash pad to cool off on those hot summer days. Sometimes running around all the time can be exhausting and you just want to find something for the kids to do at home. I'm here to help! We don't have a backyard at our house, so I have to be a little creative with our summer fun. Here are five FUN activities to do with kids at home this summer. Bonus: they are simple and fairly cheap!
Activities To Do With Kids
Eat/make popsicles. My kids have been obsessed with popsicles this summer! They love sitting on the porch to eat them and I love that the mess stays outside (for the most part)! You can even make your own popsicles with your kids. Use things like flavored water or 100% fruit juice for a healthy treat on those hot summer days.
Blow bubbles. We have so many bubbles in our house and our stash keeps growing! Instead of playing with toys inside, take your kids outside to blow bubbles on a summer day! You can even make a game of it! Have your kids count how many bubbles you can get with each blow or have them try and pop them with their hands behind their back!
Draw with chalk. This is another outside activity that my kids don't do often enough! Let them tap into their artistic side and hand them some colorful chalk! You can give each of them a square of sidewalk and have them turn their backs to each other while they draw. Make a big deal out of their reveal when they show their drawings to each other!
Water balloons. My son got a ton of water balloons for his birthday and we haven't used any yet! Fill up a few (or a lot!) and let your kids loose! This is a great activity to do with kids when you don't have a back yard or local splash pad and your kids need to cool off!
Paint pictures. I made a trip to the dollar store recently and found some really cute paint sets for my kids. They love using the paint to create their own masterpieces. When you're ready for some quiet time in the house, this is a great activity to keep them occupied.
If you're kids are like mine, they'll get pretty messy doing all of these outdoor and indoor activities! I like to make clean up easy with Brawny® Tear-A-Square™. I ran out of paper towels a few days ago, so I made a quick Target run to grab a pack of Brawny Tear-A-Square paper towels so I would be set for the rest of summer!
I love the unique quarter sheet size option that Brawny Tear-A-Square paper towel has because I don't have to be wasteful. No more using a full or half sheet paper towel when only a quarter sheet is needed. The quarter sheet size is perfect for small spills and quick clean-ups, or to use as a napkin or snack plate for your kiddos.
I can use the quarter sheet to wipe my kids' hands and face after eating a popsicle or drawing with chalk. The full and half sheets are great for bigger messes like cleaning up spilled bubbles or wiping paint off my kitchen table. Brawny Tear-A-Square paper towels are strong, absorbent, and durable and can handle anything from your toughest messes to simple, everyday cleanup.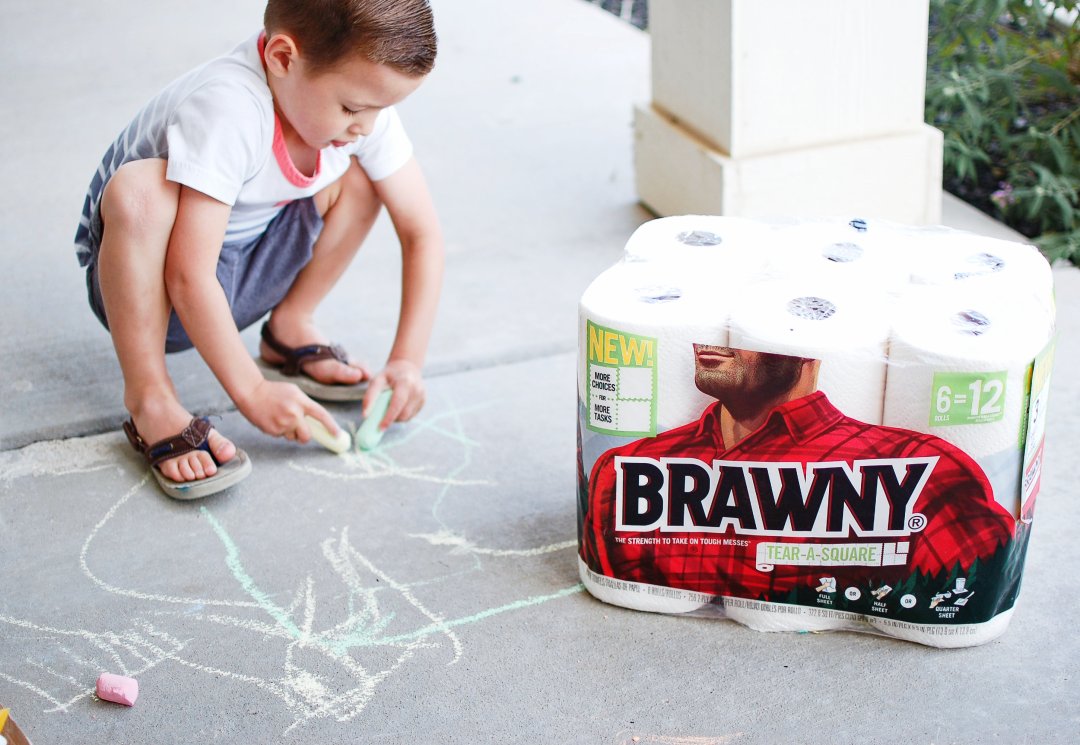 I love to keep paper towels in my kitchen for cooking and cleaning kitchen counters and appliances, but you can also use the Brawny Tear-A-Square paper towels for make up brushes, cleaning glass, bathroom vanities or to even keep in your car for any on the go emergency occasion. I'm definitely going to stash some sheets of Brawny Tear-A-Square in my car because I can't tell you how many times my kids have spilled drinks or ice cream and I haven't had anything to clean up the mess! For any task or mess, big or small, Brawny Tear-A-Square towels offer so many possibilities!
I hope my list of activities to do with kids gave you a few ideas for your affordable summer activities that will keep your kids entertained on days you just want to stay home. Be sure to check out your local Target for the Brawny Tear-A-Square towels to make the activity cleanup easier all summer long!
If you liked this post, please Pin it below!